Direct Mail as Easy as Email
Direct Mail Manager transforms direct mail for the digital age. Automation, HTML templates and real-time tracking make sending postcards and letters as easy as sending email – and more impactful!
Direct Mail Campaigns

On-demand "set it and forget it" campaigns. Set up recurring campaigns once and let the automation take it going forward.

Direct Mail API

Easily implement with a robust and well-documented RESTful API. It's easy for your in-house team to integrate with existing tools.

Fully Variable Print

Design your own dynamic HTML templates giving you the best of both worlds – turnkey automation and unlimited customization.

Reporting and Analytics

Track your project every step of the way, from production to delivery and performance.
Direct Mail Manager Does the Heavy Lifting
With the push of a button, Direct Mail Manager steps you through designing and sending postcards and letters, launching campaigns and measuring results using your existing customer data directly from your current CRM system or other marketing software.
Direct Mail Manager includes these time-saving features:
Easy-to-use dashboard
Push-button artwork preflighting
One-to-one personalization with variable data postcards
Real-time address verification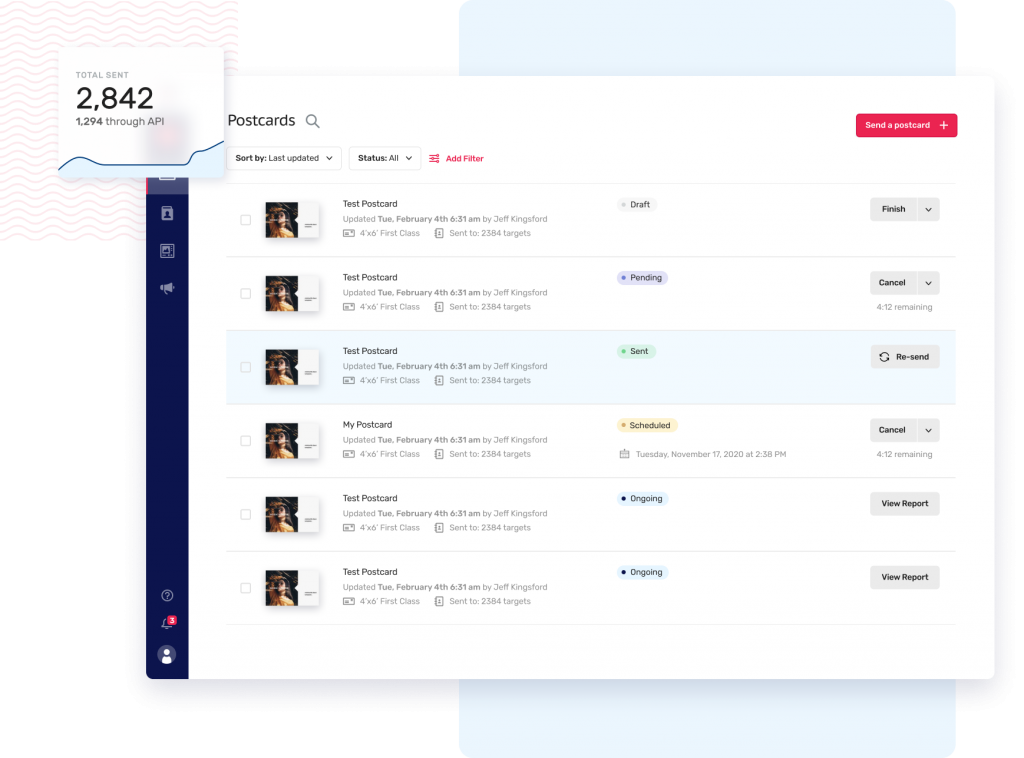 How Direct Mail Manager Works
Add Your Mail List
Import or integrate targeted lists from your existing CRM or marketing software.
Add Your Artwork
Upload your static or variable artwork
Launch Your Campaign
Launch your campaign Immediately or schedule it to launch in the future.
Track and Monitor Campaign Progress
Monitor and track the progress of your current campaigns, so you can refine going forward.
Integrate With Existing Tools for Optimal Results
Direct Mail Manager integrates out-of-the-box with some of the most popular CRM and marketing software tools on the market. This integration ramps up the value of your existing tools by enabling enhanced visibility and accessibility to the data and systems that drive your business. We provide seamless integration with leading CRM, marketing automation, ecommerce and financial software solutions, allowing you to import customer data directly to your campaigns.
...and many more
Powerful Direct Mail API
Automate, streamline and increase efficiency with the industry-leading direct mail API that empowers your in-house development team to incorporate powerful direct mail capabilities from Direct Mail Manager into your existing platforms.
RESTful API

Easily implement with developer-friendly RESTful API

Flexibility

Send a single mail piece or a batch in real-time

Real-Time Mail Status

Access real-time mail status to inform downstream workflows