Showing what you can do is one thing, but we all know that the proof is in the pudding. That's why running direct mail campaigns means you need to understand how to track and measure their success. If your direct mail campaign is a success, wouldn't you want every metric available to show your team how much of a hit your campaign was? Understanding how to collect and leverage these metrics could completely reinvent your approach to marketing. Below, you'll learn about some of the most reliable methods for tracking your direct mail campaign.
How to Track Direct Mail Campaigns With Call Tracking
Accurate contact information is an essential component to any successful direct mail campaign. But with a tracking phone number, you can kill two birds with one stone. That's because this particular phone number allows you to connect with your valued leads, while tracking the attribution source for the lead, which of course would be your direct mail campaign in this case.
Some examples of how call tracking can be used in direct mail campaigns include:
A heating and cooling company wants to measure how many conversions they receive from direct mail campaigns in comparison to pay-per-click ads. So they subscribe for a new service that provides the software necessary for tracking, recording and storing call analytics in a shared dashboard.

Then, they add the tracking phone number to postcards they send out for recipients to call. Now, at the end of the month, the heating and cooling company will have an accurate idea of how many leads convert when sent postcards to compare with how much business their pay-per-click campaigns are bringing in.
You don't have to rely on fancy call-tracking software to track the success of your direct mail campaign using a phone number. Let's say for example, you work for a landscaping company that wants to track the success of its first direct mail campaign. After mailing your postcards, all you need to do is make sure the receptionist, or whoever answers the phone indicates how they learned about your services.





If they reply saying they received the postcard, add that bit of information into the lead's record in your CRM and voila! You're now tracking your direct mail campaigns using the telephone.
Using Unique Landing Pages to Track Direct Mail Campaigns
One of the biggest benefits of direct mail campaigns is the fact that you can easily combine them with your digital marketing efforts. And what makes matters even better is that combining these two worlds can make the process of tracking the success of your direct mail campaigns super simple. If you're running a campaign that includes an emphasis on personalization, direct mail automation programs like direct mail manager allow you to leverage the data you collect to create highly personalized messaging. You can distinguish your direct mail campaign from the crowd by taking that personalization to the next level with a unique landing page, along with a personalized URL (PURL). 
Picture this: You've designed your postcard, and prepared your mailing list. So now all that's left for you to do is create a landing page using a resource online like Constant Contact or Unbounce. After making sure that the theme and offer of the landing page is consistent with what was sent on the postcard, you're ready to begin tracking. To take it a step further, you can even create personalized URLS (PURLs) that are unique to each recipient of your postcard. By relying on direct mail automation platforms like Direct Mail Manager, you can easily integrate your CRM with our API which tracks whenever your recipients take a specific action.
Tracking Direct Mail Campaigns With Coupon Codes
You already know how much coupons can move the needle when it comes to getting skeptical or lapsed customers to return. But what may come as a surprise is how instrumental they can be when it comes to helping you track the success of your direct mail campaigns. If you're unsure of why that's the case, follow along. 
Let's say for instance, you're a restaurant owner having trouble attracting new patrons. So you're thinking about changing your approach towards marketing the restaurant. But before you make any final changes, you need to find out if one method outperforms the other. 
So you decide to offer recipients of your direct mail piece 20% off of their next meal if they use code "LETSEAT" while placing their next online order. You also decide to run a similar promotion in your local newspaper, but this time with the code "LETSEAT20". After a month of running the promotions with the discount codes, you review which was used more, so you know where to invest your marketing funds moving forward. And with Direct Mail Manager's variable data printing capabilities, you can offer discounts to your entire list, or individual customers.
Using QR Codes For Tracking Direct Mail Campaigns
Towards the end of the last decade, it seemed as though the era of the QR Code had fizzled out. But during the pandemic, they made a roaring comeback, especially with restaurants. And you don't have to be a restaurateur in order to reap the benefits that they present. That's because QR codes can be a key player in helping you track the success of your direct mail campaigns. If you're unsure of how to create a QR code for your direct mail piece, just follow the steps below:
Step 1: Head to qr-code-generator.com.

Step 2: Enter your website.

Step 3: Create the frame, shape and color of your QR code.

Step 4: Click Download to save the JPEG, and add it to your direct mail piece.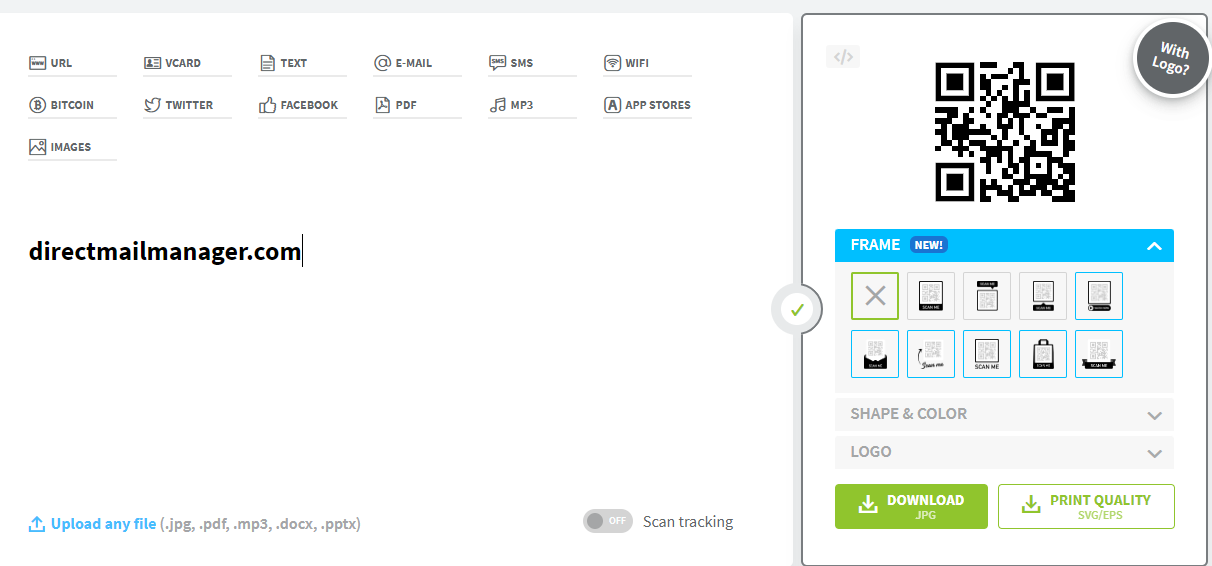 Then, when your recipients get your mail, and use the QR code to take advantage of your call to action, you can find out how many did so by navigating to your scan statistics.
Start Your Next Direct Mail Campaign With Direct Mail Manager Today!
Understanding how to track and measure your direct mail campaigns is a necessity for being able to optimize them for success. Now that you're up to speed when it comes to tracking direct mail campaigns, it's time to get started with sending your first mail piece. Getting started is simple, too. Once you're ready to begin, just create a free account and upload your first list. You'll wonder why you didn't start sending sooner!