Failing to maximize the benefits of self-service direct mail automation platforms could be one of the biggest mistakes you're currently making. To say that the right direct mail automation platform could reinvent your marketing strategy would be the understatement of the year. By saving you time while delivering deeper tracking insights, a direct mail automation platform is a must-have for your marketing strategy. 
More reasons why a direct mail automation platform is essential to your marketing success include:
Direct Mail Automation Platforms Allow You to Benefit From Sending Mail Using Trigger-Based Events
Individually mail postcards or letters after specific checkpoints during the buying journey seems difficult, if not impossible. However, doing so can be instrumental in helping to guide your core audience down your sales funnel. That's why marketers who get the best results from their direct mail campaigns integrate direct mail platforms that are capable of delivering direct mail based on certain actions recipients take.
Let's say for example that someone who regularly shops with you hasn't visited your website in a while. Using a direct mail automation platform like Direct Mail Manager, you can easily send a postcard or letter to a prospect that hasn't been seen after a specific period of time saying, "hey we miss you, here's a small discount to use if you come back." That's because Direct Mail Manager's API seamlessly connects to your CRM, allowing you to leverage all sorts of customer insights that you've been collecting.
You Can Use Direct Mail Automation Platforms to Increase Personalization Within Your Outreach Efforts
One of the reasons why direct mail is so effective is because it's more personal. Regardless, spending time personally addressing each postcard or letter you send by hand is so time consuming that it's probably out of the question for most people. But one of the best parts of receiving a postcard is the personal touch, so sacrificing personalization is one of the biggest mistakes you could make in a direct mail campaign. 
Fortunately, direct mail automation can make sending personalized letters and postcards a breeze. One reason why is because of the fully variable printing capabilities of platforms like Direct Mail Manager. Direct Mail Manager is capable of taking any of the information you upload about a contact within your postcard or letter to make your direct mail more personal. Some of the information that you can use to make your direct mail more personalized include first and last name, product information and other property values. Making your direct mail more personal is key to getting the results you want out of your campaign.
Direct Mail Automation Platforms Provide Valuable Tracking Insights
As the old saying goes, "you can't manage what you don't measure." With that in mind, the advanced tracking metrics that direct mail automation platforms provide allows you to quickly determine if there are any adjustments that you should make regarding your mailing frequency. In fact, these insights are so crucial that you can also use them to inform other areas of your marketing strategy. 
Some of the tracking insights offered by Direct Mail Manager include the amount of mail on its way to the destination, the amount of mail that has been rerouted, along with the delivery status of your postcards and letters. It's entirely possible to track your postcards or letters from the time they leave our facility, until they arrive in the mailboxes of your target audience using Direct Mail Manager. Having access to these valuable tracking insights makes fine-tuning your marketing strategy based on the timing of your mailers are received simple.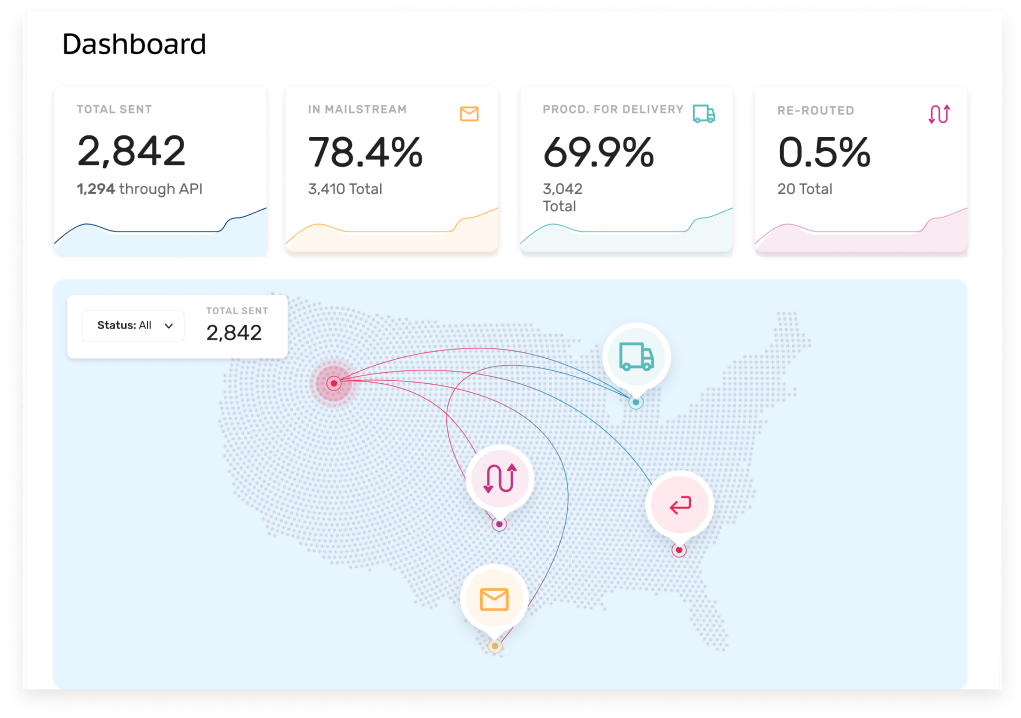 They Improve the Accuracy of Your Direct Mail Campaigns
The thought of spending valuable time and money on a postcard or letter only for it to go unread is enough to give marketers nightmares. That's why leveraging direct mail automation platforms with address verification capabilities is essential to the success of your campaigns. Direct Mail Manager has the ability to validate 160 million USPS addresses, along with 15 million non-postal addresses which is highly effective in helping you reduce the amount of returned mail your direct mail campaigns yield. 
That's not the only way Direct Mail Manager works to improve the accuracy of your direct mail campaigns. Since all you need to get started with Direct Mail Manager is your mailing list, when you upload it, Direct Mail Manager will automatically alert you regarding any errors with the addresses in your mailing list upon verification. Having the ability to quickly spot and correct inaccuracies is essential to reducing the amount of returned mail your campaign yields. That means less wasted money on postage costs, and supplies.
Direct Mail Automation Platforms Make Audience Segmentation Simple
Providing audiences with the right messages at the right time is key to getting the marketing results you're striving for. So that's where audience segmentation becomes a priority. If you're unsure of where to start when it comes to providing specific audiences with unique messaging, direct mail automation platforms can be essential in helping you succeed in providing the right message to the correct audience. That's because direct mail automation platforms like Direct Mail Manager allow you to easily segment your lists, allowing you to craft specific messages to certain members of your audience. 
Let's pretend that your mailing list consists of contacts that you've been collecting for the past year or so. Now, you'd like to start a direct mail campaign that advertises a new promotion for repeat customers. Using Direct Mail Manager, you can easily separate your longtime customers from subscribers that have just joined your mailing list. Such seamless segmentation can be a critical asset to your marketing strategy.
Upload Your List to Start Sending Mail Using Direct Mail Manager Today!
Considering how many ways self-center automation platforms can impact the way you communicate with your audience, we totally understand if you're interested in learning more. If you're curious about how you can use direct mail automation in your next direct mail campaign, sign up for a free account today! Once you do, you can begin sending vibrant, creative postcards or letters to your audience. Ready to get started? If so, sign up and upload your first list today!