The right resources can make executing a direct mail campaign easier than you might think. If designing your Deciding to conduct a direct mail campaign means you'll likely have to find the best resource available for helping you come up with a killer design for your postcards. If you're unsure of where to start when it comes to designing your postcard, direct mail automation software could be an ideal solution for you. Some reasons why that's the case include:
Direct Mail Automation Platforms Helps Users Identify Potential Errors Prior to Printing
If you've never sent direct mail before then you may not know about the many different ways you can ruin your postcard with design mistakes. On the other hand, mistakes are so easy to make when it comes to postcard design that even seasoned pros need help spotting their mistakes before sending their direct mail. Some of the easiest mistakes to make when it comes to postcard design include:
Using the artwork meant for the back of the postcard on the front, or vice-versa

Resolution issues with your images

Creating artwork that doesn't match the size of your postcard

Poor color spacing
Without the right resources in place, it's easier than you think to make a mistake that could render your direct mail campaign a failure. Fortunately, direct mail automation is capable of alerting users about any potential errors when it comes to your postcard artwork. 
They Can Help Users Easily Save Images Featured in Previous Direct Mail Campaigns
Another way direct mail automation platforms can aid you along in the process of designing postcards for your direct mail campaigns is by easily allowing you to store and locate your artwork. Think about it this way, imagine how embarrassing it would be to send out a postcard with the same artwork and language on both sides. Not only would it be embarrassing, it would also be a waste of your money. 
There are numerous ways direct mail automation can be a lifesaver when it comes to spotting errors in your postcard artwork. First, it makes it easy for users to tell old designs from newer ones. It also makes it easier for users to maintain an idea of what works and what doesn't when it comes to postcard design. Considering how stressful and time consuming managing your artwork can be, adding direct mail automation software capable of saving you time while lightening your workload.
Direct Mail Automation Platforms Allow You to Use Variable Fields to Personalize Artwork
Being able to increase the amount of personalization you include in your marketing efforts is one of the biggest reasons why direct mail campaigns are so effective. But when you think about personalizing the postcards you send, you may be envisioning having to do so one at a time, which sounds like a nightmare to most people. That's the exact scenario direct mail automation platforms can help you avoid, due to the fully variable printing capabilities they possess. This feature provides users with all the ability to add as much customization to postcards as they'd like.
Customizing your postcards is as simple as including the variable fields you'd like to use next to the name of the recipients of your direct mail campaign in the file you upload. Some examples of variable fields that you may benefit from using include product details, discount codes, and location just to name a few. Whatever data you collect, you're free to use it to personalize your postcards to leave a strong impression on your target audience.
They Provide Multiple Methods for Creating Your Postcard Design
If the thought of creating a design for your direct mail campaign hasn't scared you away yet, give yourself a pat on the back. If you're new to designing postcards for a direct mail campaign, you may not know where to start. That's why you benefit from resources that provide you with multiple options for creating your design. Being forced to create your own design in a program like Photoshop may not work for everyone, which is where direct mail automation software like Direct Mail Manager comes into play.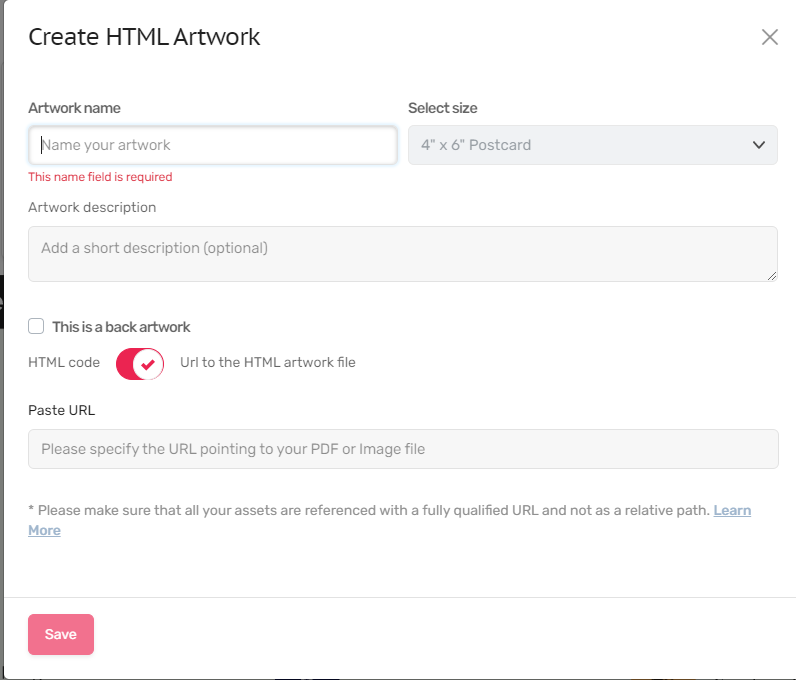 One of the key benefits of using Direct Mail Manager to help you design your postcard is because Direct Mail Manager gives users a few easy options for creating postcard designs. If you know your way around photoshop, you can easily upload a static image that can be used. If you'd prefer to code your own from scratch, you can take that route if you'd like. There's also a choice allowing users to paste a URL link directly to the HTML artwork file.
Direct Mail Manager Can Help You Come Up With a Postcard Design for Your Direct Mail Campaign
If you thought you were on your own with your direct mail campaign, think again. It's no secret that you need a knack for design in order to create a postcard that really blows your audience away. You can rely on the in-house design team at Direct Mail Manager to provide you with the perfect design for your direct mail campaign. To begin the process of getting the artwork for your postcard designed, create your free account with Direct Mail Manager today. You can track the process of your design order once it's been finalized, too. Costs for design are based on factors like sizing and timing. Typically, it takes around three business days to receive your first proof.
Design and Send Your Next Postcard Today With Direct Mail Manager!
Designing and sending postcards to your target audience is a big responsibility that you shouldn't have to deal with alone. By relying on direct mail automation software like direct mail manager, you're able to let us do the heavy lifting involved with your campaign. All you need to do is sign up for a free account and begin uploading the data you've been collecting from your target audience to get your postcard marketing campaign up and running. To get any of your questions regarding direct mail automation software answered, schedule a free demo with Direct Mail Manager today!