In a digital world, it might be tempting to dismiss traditional marketing strategies. But direct mail is experiencing a resurgence, particularly in the home services sector. 
Despite the explosion of online marketing, direct mail retains a unique charm that digital channels simply can't match. Its physical, tangible quality adds a personal element, making it an effective tool for capturing attention and building enduring customer connections.
Let's delve into how you can leverage the power of direct mail automation to enhance your customer communication and grow your home service business.
Home Service Businesses Can Use Variable Data Printing (VDP) to Stand Out
Variable Data Printing, or VDP, allows you to create personalized mailers that truly grab your customers' attention. It works by integrating your unique customer data with the design of your mail, enabling you to tailor every aspect of the design to individual recipients. 
This can range from incorporating their name into the design to changing images based on their specific needs or interests. 
Picture this: you're a landscaper, and one of your customers, who routinely requests tree trimming services, receives a beautifully designed postcard adorned with lush, meticulously trimmed trees. The moment the customer sees the familiar image, a connection is formed. The message is clear: you understand and cater to their unique needs.
Now, contrast this with another customer who uses lawn maintenance services. They open their mailbox to find a postcard showcasing a manicured lawn bathed in the warm light of the setting sun, the very embodiment of their own well-maintained lawn. The level of personalization this provides goes beyond merely incorporating their name—it creates a resonance based on their specific experiences.
VDP can make your direct mail stand out in a crowded mailbox and significantly increase engagement and response rates.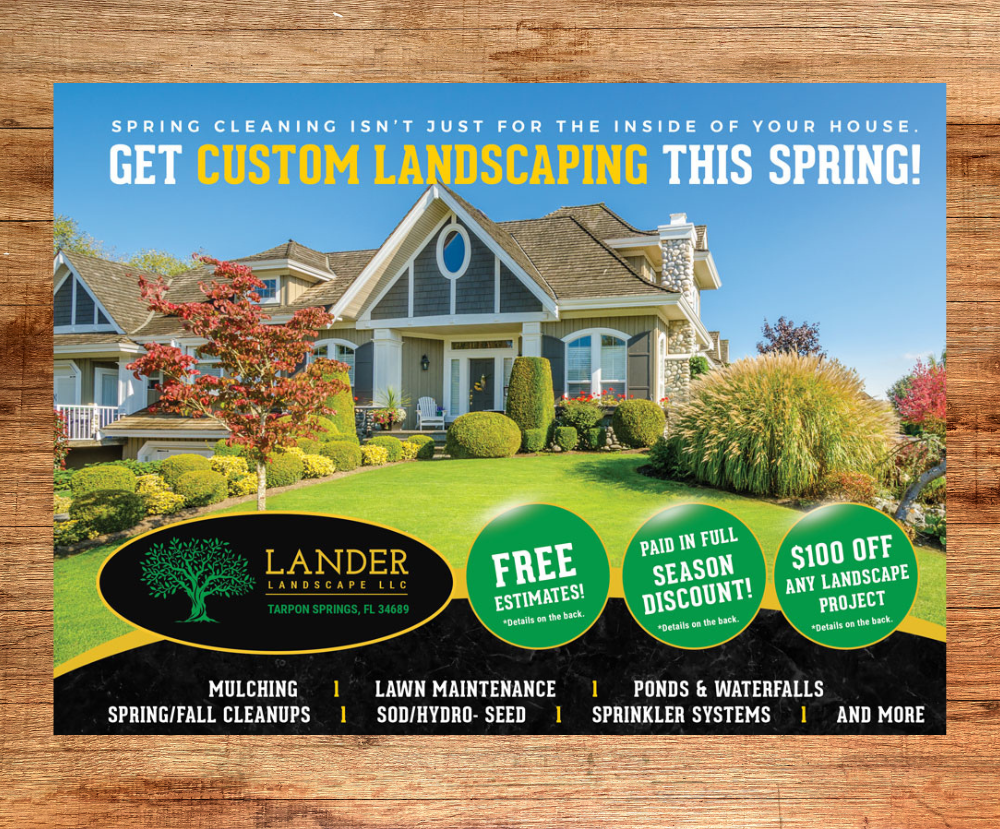 Variable Data Printing and Google Street View Integration
For businesses involved in home services like landscaping, home remodeling, or exterior repairs, VDP can be paired with Google Street View to create an even more personalized, impactful direct mail experience. 
Imagine your potential customer receiving a postcard featuring a Google Street View image of their own home, along with a mockup of potential landscaping upgrades or a new exterior paint job. 
The ability to visualize your services directly on their property can serve as a powerful motivator for homeowners to engage with your business.
Leveraging Triggered Sends for Timely Alerts and Follow-up Visits
Placing your services at the forefront of your customers' minds at the right time is the name of the game. But doing so is easier said than done – and that's where triggered sends enter the picture. 
Triggered sends are an intelligent direct mail automation feature enabling your business to send out mailers based on predefined conditions or events. These automated sends can be employed to remind past customers about important follow-ups or to inform them about seasonal services relevant to their previous engagements with your business. 
If you operate a pool maintenance service, a triggered send could be set up to alert past customers when a significant holiday, like the Fourth of July, is nearing. The reminder could urge customers to schedule a pool cleaning session in time for their holiday celebration.
Similarly, if your home service business took care of furnace fixes over the winter, you could use triggered sends to reach out to those same customers as warmer weather approaches. Your mailer could inform them about your AC repair services, assuring them that the same quality service they experienced during the winter months can be provided for their cooling needs.
Offering Discounts to Re-Engage Lapsed Customers
Re-engaging with past customers who haven't utilized your services for a while can provide a vital boost to your home service business. Direct mail automation is an effective tool for this, allowing you to send targeted mailers offering exclusive discounts or incentives that can reignite their interest, encouraging them to reestablish contact.
Think about how appealing a personalized postcard or letter would be, arriving in the mailbox of a previous customer who has not made use of your services for some time. Compared to the barrage of emails and pop-ups your average customer is subject to on a daily basis, a charming postcard tailored to them is much more likely to be well received.
For instance, a home cleaning service might offer a discount on a comprehensive spring cleaning package, or a gardening service might offer a special deal on a seasonal garden makeover.
Not only does this strategy allow you to reconnect with past customers, it also lets them know that they are valued and appreciated. Moreover, a great offer can often be the deciding factor for those considering re-engaging with your business. This way, direct mail automation can play a significant role in rekindling relationships with lapsed customers, ultimately contributing to the growth and success of your home service business.
Using Direct Mail Automation for Service Feedback and Improvement
An integral aspect of running a successful home service business is understanding your customers' needs and continually improving based on their feedback. Direct mail automation provides an effective channel to gather crucial insight from your customers, which can inform improvements in your service delivery.
Consider a scenario where a customer receives a personalized mailer a week or so after dealing with your company. This mailer could include a simple, yet thoughtful message thanking them for their patronage, coupled with a short questionnaire asking for their feedback on the service received. A direct approach like this not only communicates your commitment to customer satisfaction but also provides customers with a tangible, easy-to-respond-to medium for sharing their experience.
Utilizing direct mail automation in this way facilitates a continuous loop of service, delivery and improvement.  Ensuring your home service business consistently meets and even surpasses customer expectations can have a tremendous impact on your bottom line. 
Level Up Your Home Services Business with Direct Mail Manager
In the competitive landscape of home services, knowing your customers and effectively communicating with them can truly differentiate your business. Utilizing every piece of customer information you gather, you can customize your offerings and your outreach efforts to resonate with your client base. 
This is where direct mail automation proves invaluable. With the right tools at your disposal, you can harness your customer data to create personalized direct mail campaigns to reach your audience and scale up your business.
Don't wait on the sidelines wondering how direct mail automation can take your home service business to the next level. Take action by signing up for your free account with Direct Mail Manager and start uploading your customer lists. If you'd like to get a taste of the platform before diving in, you can simply reach out to schedule your free demo.